This session looked at case studies of investors who have integrated sustainability practices into their investment decision making and portfolio construction, their outlook for the next five to 10 years, and what they think ESG 2.0 will look like in their portfolios.
Lucy Thomas leads NSW Treasury Corporation's stewardship activities. In her role she has joint accountability with the investment leadership team for the design and implementation of a new total portfolio approach to investment and stewardship philosophy and process. TCorp is committed to be an effective steward of the $90 billion of assets entrusted to TCorp on behalf of the people of NSW.
She is responsible for establishing and managing best-practice stewardship at TCorp and uses a five pillar framework to embed stewardship across the organisation. These pillars include ESG integration, proxy voting, engagement, collaboration and disclosure. She ensures consistency of approach and transparency to stakeholders including government, clients, TCorp board and global industry peers.
She was previously global head of sustainable investment at Willis Towers Watson. Her career spans diverse global investment roles with over 15 years' industry experience. Her background includes equity research at Morgan Stanley in London; a boutique real estate manager in Europe; and a Sydney based market neutral hedge fund.
She is a CFA charterholder and holds a BA (Hons) in management science from Dublin University (Trinity College).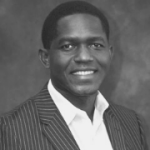 Andrew Siwo
Director of sustainable investments and climate solutions, New York State Common Retirement Fund (United States)
Andrew Siwo is the director of sustainable investments and climate solutions (SICS) at the New York State Common Retirement Fund and reports to the chief investment officer. He is charged with providing leadership and oversight on sustainable investment efforts across the Fund's $220 billion portfolio and is the portfolio manager for the fund's $20 billion commitment to SICS. Previously, Siwo was an investment director and served as the head of mission-related investments (MRIs) at Colonial Consulting, an investment consultancy to over 150 leading foundations and endowments with an aggregate of $40 billion in assets.
At Colonial Consulting, Siwo led the creation of client portfolios targeting MRIs, developed the firm's MRI (SRI, ESG, impact) framework as well led sourcing, investment research, and due diligence across asset classes for related investment strategies.
Prior to joining Colonial Consulting, Siwo was a manager at the Global Impact Investing Networking (GIIN). In his capacity there, he was responsible for the operation, sourcing, and development of ImpactBase, the largest platform of impact investment funds globally, which he grew by $10 billion and validated over 100 impact funds. He also educated and fostered institutional investors seeking exposure to socially/environmentally responsible investment portfolios.
Prior to joining the GIIN, Siwo spent five years in the investment banking division at JP Morgan-most recently in the Global Special Opportunities Group, a $3 billion proprietary portfolio of principal investments in private equity, debt, mezzanine, infrastructure, and real estate. He also held roles on the rates desk executing fixed-income financing transactions as well as the Securitized Products Group valuing collateralized mortgage obligations.
Before JP Morgan, Siwo was a member of the Corporate Finance and Real Estate Strategy Group at Victoria's Secret leading project finance initiatives. He began his career at E*Trade Financial, managing a team of investment representatives serving active traders and high net-worth investors. His investment articles have been printed in various industry publications. Siwo completed an MPA in Finance and Fiscal Policy at Cornell University and holds a BA in Accounting from Morehouse College. He has held FINRA Series 7, 63, and 24 licenses. Siwo was selected into the 2020 Class of Crain's New York Business "40 under 40."
As PKA's deputy executive director Dewi Dylander is head of sustainable investments and the investment secretariat where she works with integrating ESG in investments, exercising active ownership and optimizing the business through sustainable investments. She is responsible for climate related issues and implementing the UN SDG's. In addition, she is ensuring long-term value creation through an increased focus on implementing ESG factors as core elements in the investment strategy, policies and guidelines.
With a practicing certificate and +20 years' business experience – including on executive level – I have a strong professional foundation with broad financial, legal and international experience from both the public and private sectors. She has worked at ATP, and was well as stints in government including chief negotiator and head of department for the Ministry of Energy, Utilities and Climate in Denmark, where she was Denmark's chief negotiator for international climate negotiations with the EU and UN. She has a Masters Degree in Law from the University of Copenhagen.
White is responsible for the content across all Conexus Financial's institutional media and events. She is responsible for directing the bi-annual Fiduciary Investors Symposium which challenges global investors on investment best practice and aims to place the responsibilities of investors in wider societal, and political contexts, as well as promote the long-term stability of markets and sustainable retirement incomes. She is the editor of conexust1f.flywheelstaging.com, the online news and analysis site for the world's largest institutional investors. White has been an investment journalist for more than 20 years and has edited industry journals including Investment & Technology, Investor Weekly and MasterFunds Quarterly. She was previously editorial director of InvestorInfo and has worked as a freelance journalist for the Australian Financial Review, CFO, Asset and Asia Asset Management. She has a Bachelor of Economics from Sydney University and a Master of Arts in Journalism from the University of Technology, Sydney. She was previously a columnist for the Canadian publication, Corporate Knights, which is distributed by the Globe and Mail and The Washington Post. White is currently a fellow in the Finance Leaders Fellowship at the Aspen Institute. The two-year program consists of 22 fellows and seeks to develop the next generation of responsible, community-spirited leaders in the global finance industry.
Lucy
We think about allocating risk, not capital. We take a whole portfolio view.
We assess ESG risks and benefits. Can we mitigate risks or take advantage of benefits?
Before we invest, we think about whether we can add value by active engagement and stewardship over the long-term.
It is important for sustainability to be integral to every cog of the investment wheel.
We ask our asset manager managers to follow the CFA's code of ethics and report on their compliance to it, which gives us an insight into the culture.
We should continue to ask ourselves what our portfolio impacts, not just what our portfolio returns.
 Andrew
The fund focuses on 9 of the 17 SDGs.
For sustainable investing 2.0, asset managers will need to identify the source of alpha.
In future, there will be a close examination of claims made versus claims achieved.
There is currently problematic inconsistency in rating agency assessments in the ESG space.
Dewi
A few years back, we set a target to invest 10 per cent in climate actions.
We wish to invest at least US$8bn in climate initiatives by 2030.
We have an ESG tilt to our equities portfolio.
The lack of data and lack of comparability is an ongoing issue.
Investment in the S and G is expected to continue in the current global circumstances.