PUBLICA, one of the largest pension funds in Switzerland, has built a bespoke equity benchmark to reduce climate risk. It's not the consequence of any target to reduce emissions in the portfolio or wider ESG legislation. Senior portfolio manager Frederik von Ameln explains the process behind the strategy.
As CalPERS navigates more change at the top following Nicole Musicco decision to leave, the investment committee ploughs on with an annual review of the public equity portfolio where discussions focus on the factor weighted strategy and engagement on executive pay.
Asset allocation is often nominated as the most important element in long-term investment performance. But the Fiduciary Investor s Symposium at Stanford University heard that no investment strategy or process can operate in a vacuum – it can't happen effectively without operational excellence.
Railpen has combined its fiduciary and risk management roles enhancing the fiduciary element across investment strategy and developing a risk model that fits better with the long-term thinking of a pension fund explains Mads Gosvig, the fund's chief officer, fiduciary and investment management.
The Asset Owner Directory is an interactive tool to give readers an insight into the world of global asset owners. It includes key information for the largest asset owners around the world such as key personnel, asset allocation and performance.
"Top1000funds.com is one of the best on-line sources for learning what my peers around the world are thinking and doing to allocate capital. It's essential reading!"
Mark Walker
CIO, Coal Pension Trustees (United Kingdom)
"I find Top1000funds.com to be a useful, must-read source of information regarding developments within the institutional investment industry. Its global reach provides a variety of perspectives which aids the practitioner to navigate the challenges faced when managing a portfolio."
Mansco Perry
Executive director and chief investment officer, Minnesota State Board of Investment (United States)
"The Top1000funds.com newsletter is an excellent read for CIOs. From my perspective, the newsletter provides important insights on how our global peers are innovating and changing the way they go about investing in order to drive better outcomes for stakeholders."
Kristian Fok
Chief investment officer, Cbus (Australia)
"Top1000funds is the pre-eminent source for news and analysis on global issues of consequence to long-term investors. The focus is spot on. It is my go-to reference for what's happening in our industry and what's to come."
Barbara Zvan
Former chief risk and strategy officer, Ontario Teachers Pension Plan
"Top1000funds.com always provides a thorough analysis of the best practices in the investment industry around the planet. This is a unique way to have such a perspective and there is always some insights we can all benefit from. The publication deserves a lot of credit for such work."
Frederic Samama
Head of responsible investment, Amundi (France)
"Top1000funds.com consistently provides thorough, reliable and insightful information about how global assets owners are navigating an increasingly complex investment landscape."
Janine Guillot
Chief executive, SASB (United States)
The $315 billion CalSTRS is looking to build a top-down portfolio function to better incorporate liquidity management alongside portfolio construction and to consider how it can better deal with often lumpy cashflows to maximise returns, while continuing to keep a tight rein on risk.
Promoting transparency for
better pension outcomes
 More than $4 trillion a year in investment is needed over the next 30 years to meet the goal of net zero by 2050, asset owners have been told. Arun Majumdar, dean of Stanford University's school of sustainability describes it as the "defining challenge and opportunity of the 21st century"
The Sustainability in Practice conference will look at the meaningful steps that investors are taking to integrate sustainability including the impact on asset allocation and structural shifts of net zero. The conference will explore the new frontier of sustainability including impact investing, carbon markets becoming an asset class and investment frameworks for biodiversity. Drawing on experts at the University of Oxford and investors from all over the world, delegates will be left with functional tools to implement their sustainability commitments and cutting-edge research to share with their boards and investment committees.
November 6-8, 2023
| University of Oxford, UK
The Fiduciary Investors Symposium brings global investors together to examine best-practice strategy and implementation.
The event enables institutional investors to engage with industry thought leaders in academia and practice, in a collegiate environment that promotes shared discussion.
March 12-14, 2024
| National University of Singapore
CalSTRS has recognised the unique opportunity presented by the energy transition needs a unique response and its Sustainable Investment and Stewardship Strategies (SISS) portfolio has been specifically positioned to invest in opportunities that fall between private equity and infrastructure asset class buckets.
In the midst of the great power rivalry between the US and China, "we need to carve out a future that works well for all of us" says National University of Singapore's Danny Quah, in a talk examining the global economy and the role of Asia. Listen here.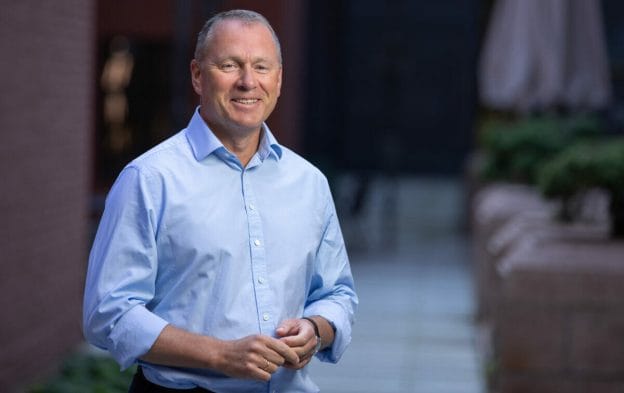 Norway's giant sovereign wealth fund took out the top spot in this year's Global Pension Transparency Benchmark. Amanda White talks to CEO of Norges Bank Investment Management, Nicolai Tangen, about why transparency is important and why under his leadership Norges aims to be the best fund in the world.
As the multitude of macro-economic risks influence market conditions in unpredictable and unprecedented ways, CIOs are facing the most challenging and interesting times in their careers. A group of investors came together in London to shareideas on how to best assess risk and position their funds for the challenges and opportunities in this increasingly demanding market.
"Top1000funds.com is a breath of fresh air in terms circulating stories that encompass new ideas and original thinking to keep us all abreast of the ideas that matters to us in the asset management industry in general and asset allocation spheres. I thank you for that."
Hareb Masood Al-Darmaki
Deputy chair of investment committee; advisor to the managing director, Abu Dhabi Investment Authority
"Top1000funds.com provides a great mix of stories that are of interest to asset owners and those who work with them, covering both investment topics and organisational ones. While aimed at "the world's largest institutional investors," the articles are relevant to all kinds of asset owners, as well as professionals at other investment organisations."
Tom Brakke
TJB Research (United States)
"The Top1000funds.com newsletter has become a very powerful source of information for the community of asset owners around the world. It is relevant and deep. I've known Amanda White for more than a decade now, she probably has the deepest understanding of the topics that are of interest to asset owners in the field globally."
Jaap van Dam
Principal director investment strategy, PGGM; and author of Achieving Investment Excellence (The Netherlands)
"I really enjoy reading Top1000funds.com articles for my reference in investment. I would describe it as a kind of lighthouse when I was lost in turbulent market situation."
Dong Hun Jang
CIO, POBA (Korea)
"Congratulations to Amanda and the team on this milestone. Your timely and relevant articles consistently offer thoughtful insights about the industry, and I look forward to seeing what the next era of investing will bring."
Rebecca Fender
Head of the Future of Finance Initiative, CFA Institute
"Top1000funds.com produces high quality and thoughtful journalism that frequently aids my thinking."
Tim Hodgson
Co-head, Thinking Ahead Group
"Accurate, authoritative, informative and readable. Top1000funds.com is everything a specialised industry publication should be. Congratulations on your 1000th issue."
Fiona Reynolds
Chief executive, PRI
"I have been a big fan of Top1000funds.com for years and eagerly await the next issue. There are three reasons for this. First, it is very prescient. I will always remember how it was writing about income inequality as a system-level risk like climate change long before this was generally recognised. Second, it is always on top of the most relevant current events in sustainable investing. Third, it brings in guest writers who are luminaries in this domain."
Robert G. Eccles
Visiting Professor of Management Practice, Said Business School, Oxford University
The $71.9 billion Pennsylvania Public School Employees' Retirement System has reduced net leverage, added fixed income and continues to shave costs off its external investment management fees, mostly by reducing private allocations. The trimming and shifting of the portfolio is part of an adjusted SAA responding to ongoing market changes.
Sujoy Bose played a central role in setting up India's celebrated sovereign development fund, the National Investment and Infrastructure Fund. He explains how NIFF's governance combines a perfect combination of sovereign comfort for investors seeking Indian exposure alongside the discipline and freedom to hunt returns.