Achieving carbon neutrality by 2060 will require radical changes. Formidable challenges lie ahead, but also investment opportunities with renewables, electric vehicles and energy storage set to benefit. 
Jie Lu is Head of Investments China in the Asia Pacific team. Before joining Robeco in 2015, he worked at Norges Bank Investment Management as a Portfolio Manager in Shanghai from 2011 to 2015, and as an Analyst in Hong Kong from 2009 to 2011. Prior to that, he worked at the M&A department of Morgan Stanley Asia. Jie started his career at Motorola in 2000 and is a native Mandarin Chinese speaker. He holds an MBA with Distinction in Finance and Marketing from Northwestern University in the US. He also holds a Master's in Electrical Engineering and Computer Science from the University of Illinois and a Bachelor's in Biochemistry from Fudan University in China.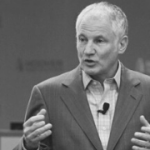 Stephen Kotkin
Professor in History and International Affairs, Princeton University (United States)
Professor Kotkin received his PhD from the University of California, Berkeley in 1988, and has been a professor at Princeton since 1989. He is also a senior fellow at the Hoover Institution at Stanford University.
At Princeton Professor Kotkin teaches courses in geopolitics, modern authoritarianism, global history, and Soviet Eurasia, and has won all of the university's teaching awards. He has served as the vice dean of Princeton's Woodrow Wilson School of Public and International Affairs, and chaired the editorial committee of Princeton University Press. Outside Princeton, he writes essays and reviews for Foreign Affairs, the Wall Street Journal, and the Times Literary Supplement, among other publications, and was the regular book reviewer for the New York Times Sunday Business section for many years. He serves as an invited consultant to defence ministries and intelligence agencies in multiple countries. His latest book is Stalin: Waiting for Hitler, 1929-1941 (Penguin, 2017). His previous book was a finalist for the Pulitzer Prize.
Do you expect China's pledge to carbon neutrality to result in an intensification of the tech war between China and the US, given the likely scramble for new technologies that will be needed to make the energy transition?