Fiscal policy, vaccines and green initiatives are creating waves of change in infrastructure. What exactly is infrastructure now, and most importantly what is not infrastructure? This session examined how the digitalization of economies and the shift to renewable energy offer potential long-term growth opportunities in infrastructure; and how it can play a role in long-term investor portfolios.
Ben Hawkins leads the team of investment professionals responsible for a global portfolio of infrastructure and renewable resources investments. Hawkins also currently serves on the board of directors for Grupo SAESA, having previously served on the boards of London City Airport, Puget Sound Energy, Mosaic Forest Corp and Autopista Central. He joined AIMCo in 2007 as a portfolio manager with a focus on strengthening the direct investment capabilities for the asset class.
Since becoming part of the infrastructure team, he has held progressively more senior positions resulting in him becoming head of the group in 2014. Hawkins' previous experience includes the utility sector where he worked in several commercial roles developing and acquiring infrastructure assets across the US and Canada. Prior to that, he worked for an advisory firm providing private capital solutions as well as developing and refining business strategy.
He holds both an MBA and Undergraduate degree from the University of Alberta and is a CFA Charterholder.
Benjamin Morton, executive vice president, is head of global infrastructure and a senior portfolio manager for Cohen & Steers' infrastructure portfolios, including those focused on master limited partnerships. He has 22 years of infrastructure-related investment experience. Prior to joining Cohen & Steers in 2003, Morton worked at Salomon Smith Barney as a research associate for three years, covering the utility and pipelines sectors. He also worked at New York Mercantile Exchange as a research analyst. Morton holds a BA from the University of Rochester and an MES from Yale University. He is based in New York.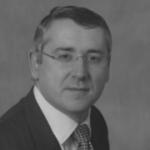 Dominic Swan
Global CIO private debt, HSBC Asset Management (United Kingdom)
Dominic Swan is senior adviser to the global chief investment officer of HSBC Asset Management, and also head of ABS Investments. As senior adviser he covers all assets classes and countries, including debt, equity and alternative investments.
As head of the ABS Team, he manages over $40 billion of ABS across a range of sectors and countries.
Before taking up his current role, Swan was global head of fixed income for Halbis Capital Management, where he was responsible for teams managing over $200 billion of assets, including Euro, Sterling and USD fixed income portfolios, ABS and EMD.
Swan has over 20 years' experience of the ABS market. In previous roles at HSBC he established and managed the banks UK credit card, covered bond and RMBS issuance programs. He previously worked for almost 10 years at Moodys Investors Service where he was rating committee chairman for structured covered bonds and much of the European securitisation market.
Tate has been an investment industry media publisher and conference producer since 1996. In his media career, Tate has launched and overseen dozens of print and electronic publications. He is the chief executive and major shareholder of Conexus Financial, which was formed in 2005, and is headquartered in Sydney, Australia. The company stages more than 20 conferences and events each year – in London, New York, San Francisco, Los Angeles, Amsterdam, Beijing, Sydney and Melbourne – and publishes five media brands, including the global website and strategy newsletter for global institutional investors conexust1f.flywheelstaging.com. One of the company's signature events is the bi-annual Fiduciary Investors Symposium. Conexus Financial's events aim to place the responsibilities of investors in wider societal, and political contexts, as well as promote the long-term stability of markets and sustainable retirement incomes. Tate served for seven years on the board of Australia's most high profile homeless charity, The Wayside Chapel; and he has underwritten the welfare of 60,000 people in 28 villages throughout Uganda via The Hunger Project.
In a panel session on opportunities in infrastructure investors noted how technological change is repricing assets and many investors are substituting fixed income with infrastructure debt.

US President Biden's plans for sweeping infrastructure investment could have important investor consequences around tax cuts and renewables. Driving 5G development will enable greater penetration for tower companies and economically sensitive businesses like freight railway will benefit from growth.

Higher yields can be found in non-investment grade infrastructure allocations, but investors shouldn't view this as a long-term strategy.

Renewables are often linked to quasi-guaranteed cashflows comprising long-term contracts with lower volatility. In contrast, digital assets will be subject to huge change as the "revolution" continues. Hence the need to adopt a shorter time frame investing in assets over a 3 to 5-year horizon.

In periods of high inflation, infrastructure credit risk falls. This is priced into how debt products are valued in the market, providing a "windfall opportunity."

Investor areas of focus include renewables, telecoms and digital infrastructure given new trends in remote working.

Data is increasingly helping resolve intermittency challenges in renewables.

Stranded or obsolete assets could spike in traditional energy infrastructure as well as in assets subject to technological change. For example, technological disruption is growing in the satellite space.