Given the extreme volatility in markets, the changing global economic risks and policy responses, what is the future of the funds management industry?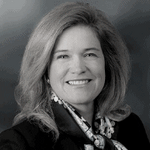 Jenny Johnson
Chief executive, Franklin Templeton (United States)
Jenny Johnson is president and chief executive officer of Franklin Resources, Inc. As president and CEO, she is responsible for the operation of all aspects of the business, and she will set long-range strategic objectives and drive corporate priorities.
Previously, Johnson held the role of chief operating officer; overseeing the majority of investment management and all related investment management support services. She was also responsible for Franklin Templeton's global retail and institutional distribution efforts, including product development. In addition, she oversaw client service, fund administration, global technology, and the company's high net worth business, Fiduciary Trust Company International. She remains a member of Franklin Resources' executive committee, a small group of the company's top leaders responsible for shaping the firm's overall strategy. She joined the company in 1988.
In 2014, Johnson was one of 10 executives named to Money Management Executive's inaugural list of Top Women in Asset Management and was chosen by her peers as one of Ignites.com's Most Influential Women in Fund Management. Johnson received the 2012 Robert L. Gould Award presented by global investment management association NICSA, recognising outstanding achievement in helping the mutual fund industry better serve investors through customer service, thought leadership and technology. In 2010 and 2011, she was recognised by the San Francisco Business Times as one of the Most Influential Women in Bay Area business.
Johnson earned her B.A. in Economics from the University of California at Davis. She is a board member of Riva Financial Systems. She is also a trustee at Crystal Springs Uplands School, and a board member of the Lucile Packard Children's Hospital.
Colin Tate has been an investment industry media publisher and conference producer since 1996. In his media career, Tate has launched and overseen dozens of print and electronic publications. He is the chief executive and major shareholder of Conexus Financial, which was formed in 2005, and is headquartered in Sydney, Australia. The company stages more than 20 conferences and events each year – in London, New York, San Francisco, Los Angeles, Amsterdam, Beijing, Sydney and Melbourne – and publishes five media brands, including the global website and strategy newsletter for global institutional investors conexust1f.flywheelstaging.com. One of the company's signature events is the bi-annual Fiduciary Investors Symposium. Conexus Financial's events aim to place the responsibilities of investors in wider societal, and political contexts, as well as promote the long-term stability of markets and sustainable retirement incomes. Tate served for seven years on the board of Australia's most high profile homeless charity, The Wayside Chapel; and he has underwritten the welfare of 60,000 people in 28 villages throughout Uganda via The Hunger Project.
Market dislocations are a playground for active managers.
There will be an increased focus on the social aspect of ESG.
We had no sleepless nights post the acquisition of Legg Mason because we have a long-term view and the reason we acquired the business remain true today.
Equality is not only good for society, it's good for business.
Fostering an environment that celebrates diversity through truly listening to different perspectives and experiences is critical. Only 2.9 per cent of VC funds go to female entrepreneurs.
Breadth and depth of data analysis capability will be critical in the future.
Governments can only do so much. What we do, every day, really matters. Let's focus on doing it right.