An intimate Q&A with former Treasury Secretary Larry Summers, President Emeritus and the Charles W. Eliot University Professor of Harvard University. 
[optin-monster-shortcode id="hwlalzdov4myawa8pddx"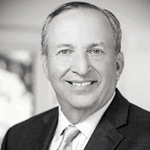 Larry Summers
President Emeritus, Harvard University (United States)
Lawrence H. Summers is President Emeritus of Harvard University. During the past two decades he has served in a series of senior policy positions, including vice president of development economics and chief economist of the World Bank, Undersecretary of the Treasury for International Affairs, Director of the National Economic Council for the Obama Administration from 2009 to 2011, and Secretary of the Treasury of the United States, from 1999 to 2001. He received a bachelor of science degree from the Massachusetts Institute of Technology in 1975 and was awarded a Ph.D. from Harvard in 1982. In 1983, he became one of the youngest individuals in recent history to be named as a tenured member of the Harvard University faculty. In 1987 Summers became the first social scientist ever to receive the annual Alan T. Waterman Award of the National Science Foundation (NSF) and in 1993, he was awarded the John Bates Clark Medal, given every two years to the outstanding American economist under the age of 40. He is currently the Charles W. Eliot University Professor at Harvard University.
Amanda White is responsible for the content across all Conexus Financial's institutional media and events. In addition to being the editor of Top1000funds.com, she is responsible for directing the global bi-annual Fiduciary Investors Symposium which challenges global investors on investment best practice and aims to place the responsibilities of investors in wider societal, and political contexts. She holds a Bachelor of Economics and a Masters of Art in Journalism and has been an investment journalist for more than 25 years. She is currently a fellow in the Finance Leaders Fellowship at the Aspen Institute. The two-year program seeks to develop the next generation of responsible, community-spirited leaders in the global finance industry.
The government needed to step in to contain the potential of vicious spirals caused by COVID-19.
We need a more effective strategy for COVID-19 because it has arisen not from the financial system, but from an external force, the virus.
I'm disappointed that there hasn't been more ingenuity in the United States regarding testing and tracing… I'm disappointed we are not doing more to plan more aggressively for future pandemics.
A W or K shape recovery may eventuate.
Beyond the threat of COVID-19, there are profound questions around the functioning of American democracy, the complexity of the US-China relationship and public concerns around climate change and terrorism.
The US is supposed to be a democratic role model and yet roads are filled with potholes, male life expectancy is declining, racial injustice is prevalent, there is an unwillingness to support the idea of international community and educational standards are lagging much of the world.
The rest of the world has a very profound stake in the future of America and yet the US is, in many ways, a society that isn't working. We are increasingly ineffective and polarised. This is a huge challenge for those that believe in a positive American destiny.
The fact that the government is so distrusted raises some very real questions.
I do not subscribe to the orthodox finance narrative that suggests excessive borrowing is the USA's major issue right now. I am worried about the US budget deficit, but I'm more worried about the environmental and justice deficit and the crumbling roads.
It's a mistake to think that an increase in inflation is inconceivable – things have a way of coming back over time. However, there are currently a number of deflationary pressures.
This should be the best opportunity ever for the leading universities to magnify their impact all over the world via digital distribution of content and achieving greater personalisation. I don't know whether they will step up in this regard.
A great strength of US society has always been its resilience. I am hopeful that America's best days belong to the future.
The US & China are like two people that don't have much time for each other stuck in a 2-person lifeboat in rough seas far from shore. Can they find ways of accommodating each other to get safely to shore? This will require restraint from leaders that we haven't yet seen.
For the election, there is 1/3 chance that Trump is re-elected, 1/3 chance that Biden is elected and 1/3 chance that Biden wins with a significant margin of victory.
If Trump is re-elected, the biggest thing we will see is the continuity of chaos. A Biden victory would bring a return to normality (which would be good for markets) and more prudent public investment that will support business. Biden would invest in trade peace not trade war.