In June, G7 nations endorsed mandatory climate-related financial disclosures based on the Taskforce for Climate Related Financial Disclosures (TCFD) framework recommendations. A recent report identified that only 23 per cent of Canadian listed companies are reporting in alignment with those recommendations, exposing its public entities to the risk of diminishing their access to capital while limiting investors' access to their returns.
Although late in 2020 Canada's largest pension funds made news by publicly declaring that they wish to see issuers disclose to both the SASB and TCFD frameworks, of the 228 companies listed on Canada's S&P/TSX Composite Index only 23 per cent provided a clear statement indicating that their climate reporting align with the TCFD recommendations, with an additional 14 per cent expressing a desire to align with those recommendations and 54 per cent with no mention at all.  Although, the extractives and minerals processing and the financials sectors led the way in terms of TCFD-aligned reporting, the study discovered that there were no TCFD-aligned reports found in the healthcare, renewable energy resources & alternative energy, and services sectors.
And how are investors responding to this lack of climate reporting?
To get a pulse, Canadian ESG Advisory firm Millani Inc. focused its recent Semi-Annual Institutional Investor ESG Sentiment Study on climate reporting, and more specifically, on investors' expectations for issuers disclosures to the TCFD framework*.
The study concluded that the Canadian investment community is mindful of the challenges of reporting in line with the TCFD, with most respondents suggesting that issuers start their reporting now but to consider that ­reporting will need to be iterative and progressive going forward.  However, regulators and investors are expected to become less forgiving with time.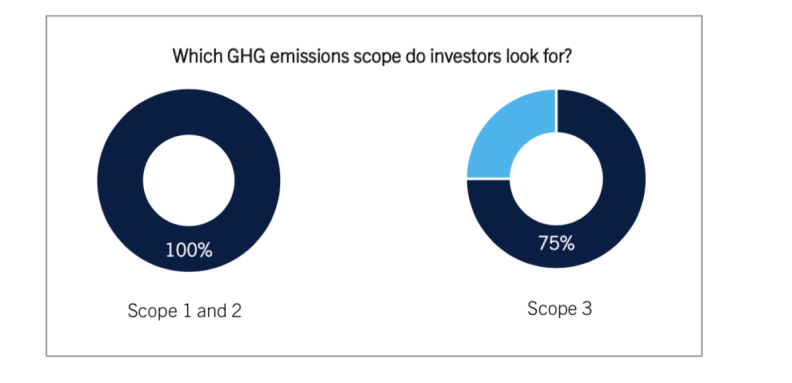 Regarding emissions disclosures, 100 per cent of investors surveyed said they are assessing scope 1 & 2 and 75 per cent are looking to assess scope 3. Meanwhile, 90 per cent of those issuers who have TCFD-aligned reports, provide scope 1 and 2 emissions, and 50 per cent report scope 3 emissions.  Much of this sentiment aligns with the proxy voting trends that the market witnessed in 2021, with multiple shareholder resolutions asking for climate strategies or disclosures to scope 3, surprisingly getting mainstream investor support.
But the study also highlighted those investors find that TCFD disclosures are less insightful than most had anticipated. Given that issuers can choose which climate scenarios they can use, investors expressed that companies are putting forth scenarios that provide positive results, and not providing a thorough disclosure of potential risks and opportunities to their business strategies.
Early in 2021, there were many organizations that made net-zero commitments.  While these announcements were initially well-received, the investor community quickly realized that for some, there was little substance behind the targets.  The report collected investor's sentiments to issuer target-setting and noted that they are most interested in seeing interim targets and an articulation of how the organization plans to get there.
The study outlines those investors themselves were surprised by the accelerating pace of change in ESG regulations and at the rate at which investors and corporates are progressing on this topic.   A well-articulated climate strategy is becoming a necessity for any issuer, and investors alike.
While having been driven by Europe until recently, North America is about to undergo seismic shifts as the new US administration begins to focus its regulatory and legislative agenda towards climate change. As much as the markets are already feeling pressures, several new regulatory initiatives are expected to be announced to drive the markets forward.
As the world, and its regulatory and its financial systems prepare for COP26, one thing is certain. Further changes are expected, and the stakes are increasing with each passing day for issuers, and investors alike.
*Millani's Semi-Annual Study was published in two distinctive reports which can be read in conjunction with one another and can be found on our website
TCFD Disclosure Study: A Canadian Perspective
Semi-Annual Sentiment Study of Canadian Institutional Investors: Climate Change & TCFD-Aligned Reporting
Milla Craig is the founder and president of Millani.