Will there be a sustainable politics of sustainability? Professor Stephen Kotkin examined the politics of sustainability and the importance of transparency, measurement and compliance so that greenwashing does not prevail.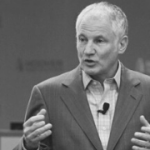 Stephen Kotkin
Professor in History and International Affairs, Princeton University (United States)
Professor Kotkin received his PhD from the University of California, Berkeley in 1988, and has been a professor at Princeton since 1989. He is also a senior fellow at the Hoover Institution at Stanford University.
At Princeton Professor Kotkin teaches courses in geopolitics, modern authoritarianism, global history, and Soviet Eurasia, and has won all of the university's teaching awards. He has served as the vice dean of Princeton's Woodrow Wilson School of Public and International Affairs, and chaired the editorial committee of Princeton University Press. Outside Princeton, he writes essays and reviews for Foreign Affairs, the Wall Street Journal, and the Times Literary Supplement, among other publications, and was the regular book reviewer for the New York Times Sunday Business section for many years. He serves as an invited consultant to defence ministries and intelligence agencies in multiple countries. His latest book is Stalin: Waiting for Hitler, 1929-1941 (Penguin, 2017). His previous book was a finalist for the Pulitzer Prize.
Tate has been an investment industry media publisher and conference producer since 1996. In his media career, Tate has launched and overseen dozens of print and electronic publications. He is the chief executive and major shareholder of Conexus Financial, which was established in 2005, and is headquartered in Sydney, Australia.
The company hosts more than 20 conferences and events globally each year and publishes three digital publications, including the global website and strategy newsletter for global institutional investors Top1000Funds.com, Professional Planner for financial planners, accountants and private bankers in Australia and Investment Magazine for Australian superfunds and institutional investors. One of the company's signature events is the bi-annual Fiduciary Investors Symposium attended by global asset owners and hosted in the Americas and Europe.
Conexus Financial's events aim to place the responsibilities of investors in wider societal and political contexts, as well as promote the long-term stability of markets and sustainable retirement incomes.
Tate served for seven years on the board of Australia's most high profile homeless charity, The Wayside Chapel; and he has underwritten the welfare of 60,000 people in 28 villages throughout Uganda via The Hunger Project. In 2021 was appointed as a Member (AM) of the Order of Australia (General Division) for significant service to the community through charitable initiatives.